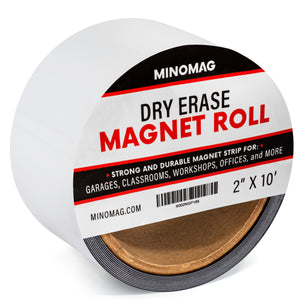 Dry Erase Magnet Roll | 2in.x10ft.
MAGNETIC BACKING | The magnetized backing means you can turn a variety of surfaces into whiteboards! Anywhere a refrigerator magnet can go, these labels can go.

FLEXIBLE AND TRIMMABLE | Trim these magnets with regular office scissors to any length you need. Label file cabinets, metal doors, loading areas, restroom stalls, classroom message boards, display booths at a trade show or expo, and on vehicles. They can even adhere to curved surfaces.

DURABLE AND BRIGHT | Your signs and labels will stay bright and legible, because the bright-white surface erases cleanly and doesn't run when exposed to water or fade when exposed to sunlight.

COMPLETELY REUSABLE | You can write, erase, and re-write your message over and over. The surface coating allows you to erase it cleanly with a dry cloth. The magnetic adhesive lets you reposition or adjust the signage as needed. No other signage solution gives you this level of customized control.

SAFE AND CLEAN | Pure magnetism keeps your labels attached without any adhesive residue that can damage surfaces and peel paint away.